1.Title: "Space has changed its texture" (2008)
Materials used: wood frame, corrugated card board, brown packing tape, speakers, light.

The installation was conceived as two connected but separated tunnels through which members of the audience could travel. The process of the making was recorded and played back inside the tunnel immersing the audience into the temporal journey of making itself.

Powered by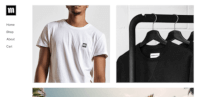 Create your own unique website with customizable templates.