The "Creative Act" is a working in progress living action where: sound, image, space, movement, technology, science, mechanics, electronics and tradition, all play a role in inspiring experiments. I am interested in reducing complexity into minimal sculptural elements of emotional tension that I like to call: Emotional-Minimalism.

The process of making, contained within the aesthetic form I create, is what fascinates me the most; and somehow, informs as well how the "Creative Act" should be experienced.


The artist at work in his studion in Garston -
Photograph by Andrew Millar 2016

Powered by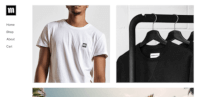 Create your own unique website with customizable templates.